The mighty Colorado River rushes down from its headwaters in the Rocky Mountains and continues to flow through Fruita, where it merges with the Gunnison River before it continues on, carving out huge canyons downstream. We're talking about 120,000 cubic feet of water per second. Yikes! However, Fruita offers a variety of river experiences, from white-knuckle whitewater rafting to an easy, merrily-merrily down-the-stream float, making it a great place to raft or stand-up paddleboard.
Looking for rental equipment? Rimrock Adventures has you covered!
Even though much of the Colorado River through the Grand Valley is relatively calm, looks can be deceiving. Always wear a life jacket certified for whitewater use any time you are on the water.
Day Trips
Ruby and Horsethief Canyons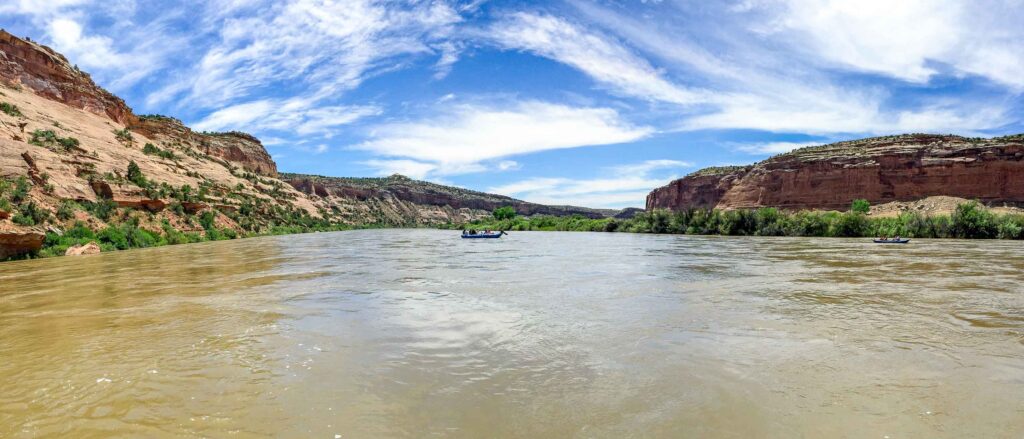 Float through 25 miles of towering red-rock canyons; see ancient Precambrian rock and gigantic boulders; view pictographs by the ancient Fremont Indians.
Blue Heron Run
This 9-mile, 3-hour trip takes you rather gently through spectacular scenery on the Colorado River and the Canada goose flyway; includes a series of small rapids, along with plenty of time and places for a refreshing swim in the river.
Westwater Canyon
Wild and historic Westwater Canyon, a 17-mile full-day trip through western Colorado and eastern Utah, combines the serenity of the upper canyon with the heart-thumping Class III and IV rapids in the lower canyon. Permits are required for private trips. A "best in the west" experience.
Multiple-Day Trips
Colorado River
This 30-mile, 2–3 day trip is just right for anyone who prefers a leisurely pace, enjoys hiking side canyons, wants to paddle his or her own inflatable kayak, indulge in bird watching, or just plain relax! On this overnight trip, you will float through towering red-rock canyons, visit Fremont Indian pictographs in the McDonald Canyon Cultural Resource Area, and enjoy hearty meals prepared by your multitalented guides.