Your Family Can Hike Like a Local in Fruita
Fruita is a great place for adventurous families! You may already know about our amazing mountain bike trails or even our dinosaur digs, but do you know Fruita has some beautiful otherworldly hikes? As you overlook red rock canyons and sweeping desert views, you'll forget you're in Colorado. The unique beauty of Fruita's landscape and wide range of trails makes hiking one of our favorite Fruita family activities. Here are our top recommended trails for families in and around Fruita:
BLM's Flume Canyon Trail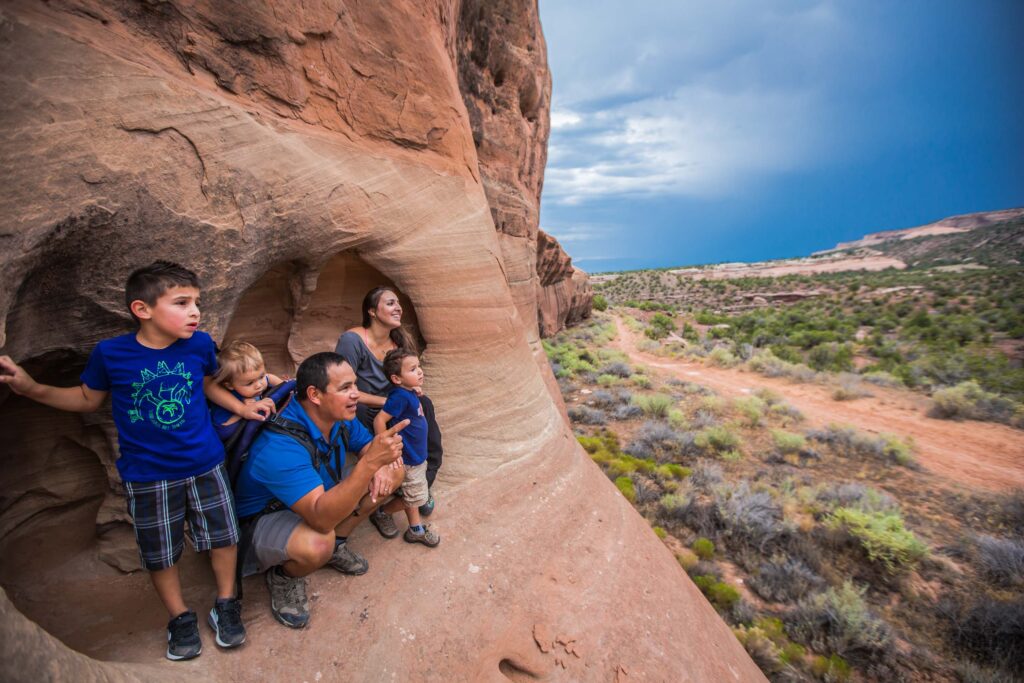 Are you ready to be transported to another planet? Take in the beautiful high-desert views, wildflowers, and red rock visits on this trail. This 4.8-mile loop is great for hikers of all abilities and is open to the whole family, including on-leash dogs. The trailhead can be accessed from Pollock Bench Trailhead off Kingsview Road.
BLM's Skinner Cabin Trail
If you're looking for an easy hike that your family may have all to yourself, Skinner Cabin Trail is for you! This is a 1.8-mile loop trail that takes you to a historic cabin in the desert. This trail has excellent views, birdwatching, wildflowers, and you're likely to see a few lizards along the way. Like most hikes in the desert during the summer months, this trail has little shade coverage and is best visited earlier in the morning or later in the evening to avoid the heat.
BLM's Dinosaur Hill Trail
You may not get to walk with the dinosaurs, but you can follow in their footsteps. This free and accessible trail will allow you to walk where dinosaurs used to roam! This 1-mile loop trail is a must after visiting Fruita's Dinosaur Journey museum. This easy trek is just 1 mile south of the museum and is full of fascinating points of interest, including the site where an Apatosaurus (also known as Brontosaurus) was found! Plan to take about 45 minutes to an hour to walk the trail and enjoy the informational plaques, scenic views, and real dinosaur bones.