The heat of summer is in full swing in Fruita, often hitting mid-90s. Fruita is a desert climate, with June and August being the hottest months of the year. However, September can be the rainiest part of the year, which cools things down significantly.
Skies are mostly clear and sunny this time of year, and Fruita has a lot to offer when it comes to cooling down. Places like the pool at the Fruita Community Center or the Imondi Wake Zone offer water activities for the whole family, even more can be found by browsing more water activities in Fruita. There are also many indoor options, such as the Dinosaur Journey Museum or the Fruita Arts Recreation Marketplace.
Before heading off to a day of activity, the local businesses of Fruita offer treats that will help you cool off. From famous Palisade peaches to homemade baked goods, ice cream, and cold drinks, there is something for everyone.
Morning Mission Coffee
Morning Mission Coffee is small but packs a big punch. Located along US-50, this tiny coffee shop offers drive-thru and curbside pickup only and closes by 1 p.m. Morning Mission has a plethora of menu options ranging from drip coffee and lattes to frappes, energy drinks, and different types of teas.
One of their new menu items is the Lotus energy drink. It is made with Lotus Energy, club soda, half & half, and flavored syrup that customers can choose. You can add blue raspberry and coconut for a delicious-looking, all-natural energy boost. Another popular drink is the Caramel Crunch, a blended frappe with caramel drizzle and a sprinkle of nuts on top. Other sweets include pumpkin chocolate chip bread, muffins, cinnamon rolls, and Rice Krispy treats.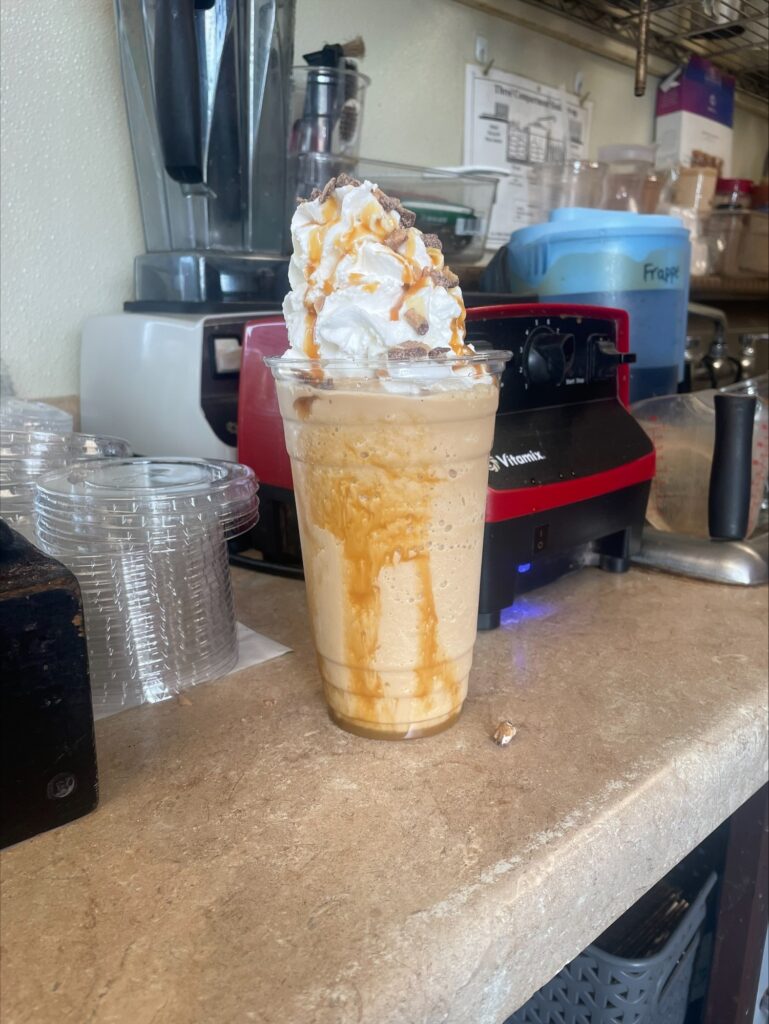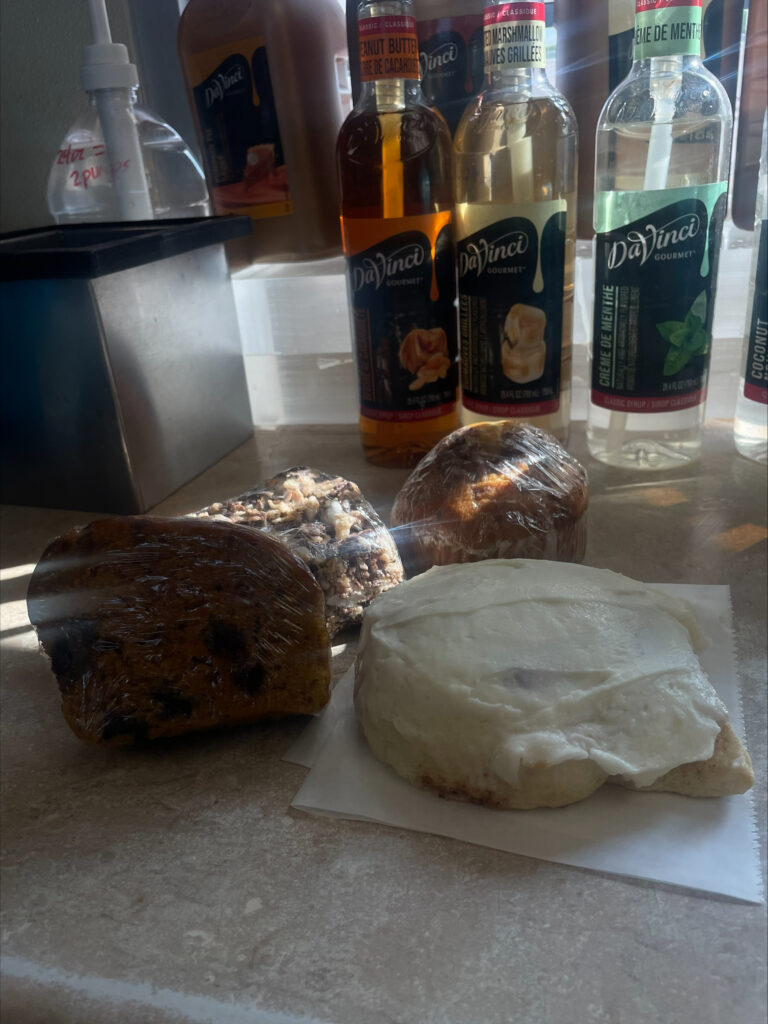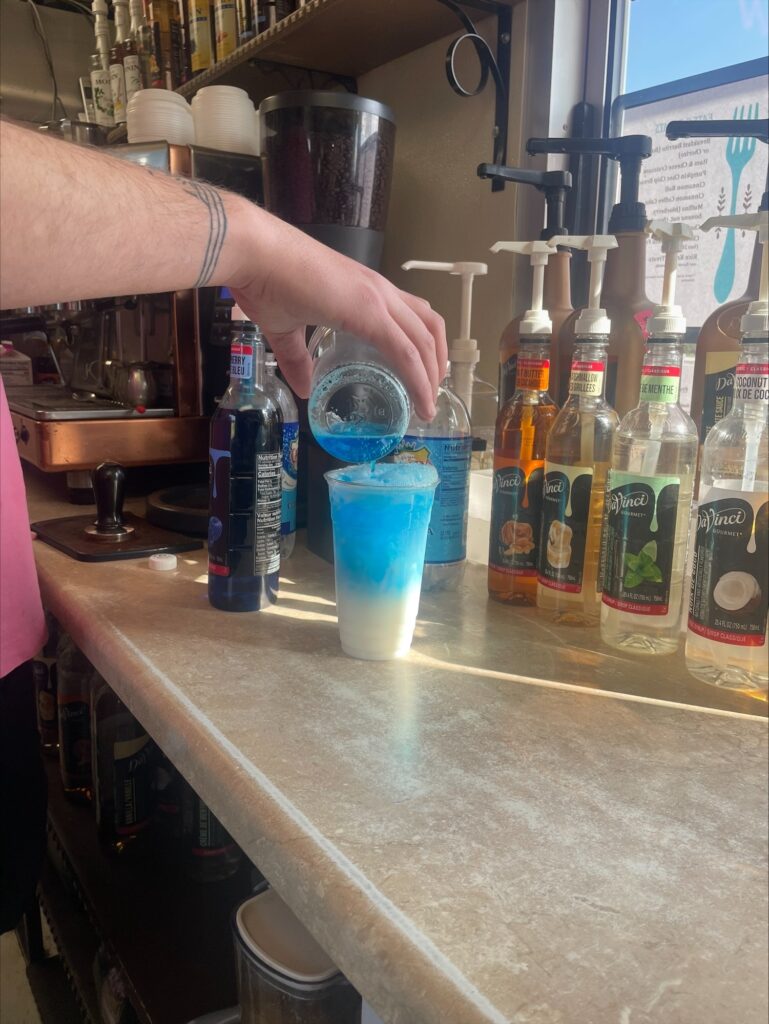 Camilla's Kaffe
Camilla's Kaffe was first established as a small family business in 2007 and has grown from there. The restaurant offers breakfast, lunch, microbrews, and a large selection of drinks. They are open from Tuesday-Sunday from 8 a.m. to 2 p.m. and can be found in Downtown Fruita.
Camilla's Kaffe offers a wide variety of drinks and food, but the sweets catch your eye as soon as you walk in. Muffins and cookies are displayed on the counter, and right behind them are the drink stations. The mocha frappe stands out on the menu and the finished product is a beautiful drink covered in chocolate with a whipped cream topping. Along with other frappe flavors, Camilla's Kaffe offers fruit smoothies. A great deal is a slice of apple pie and coffee. The pie comes with a scoop of ice cream on top and kid's ice cream is available as well.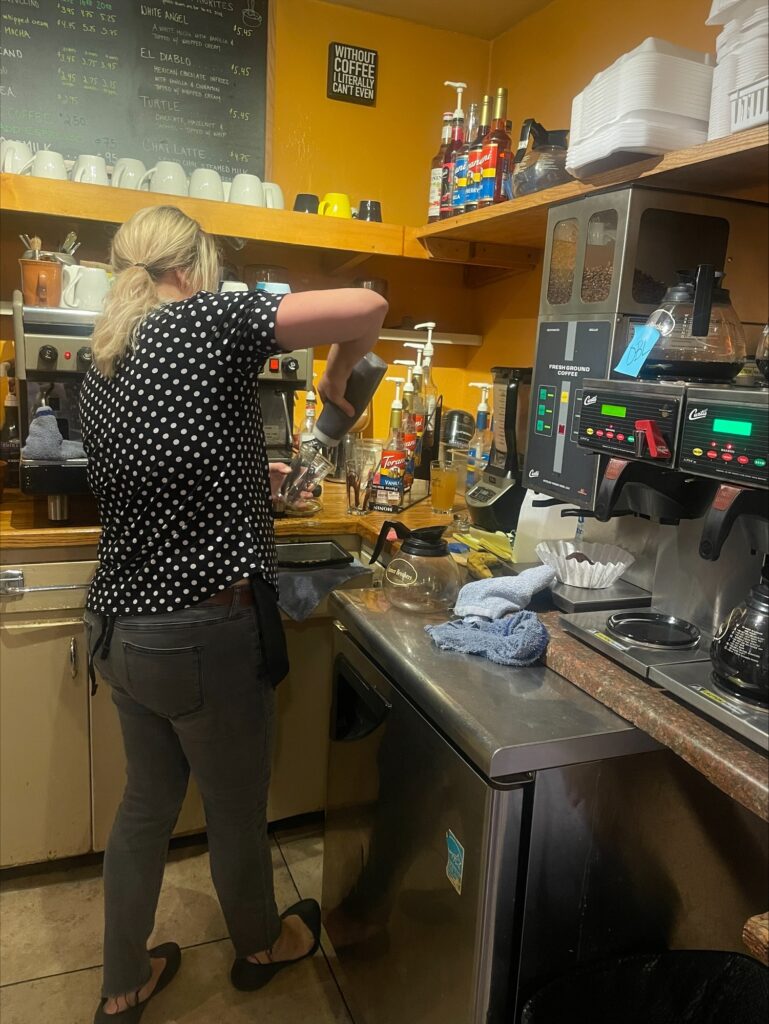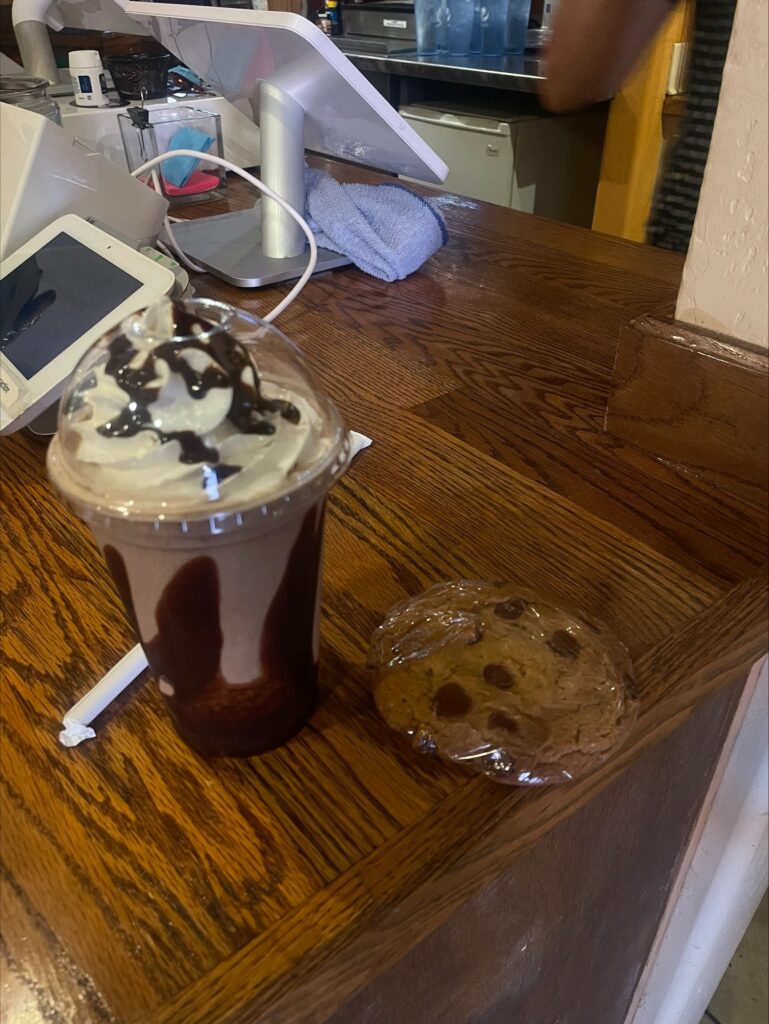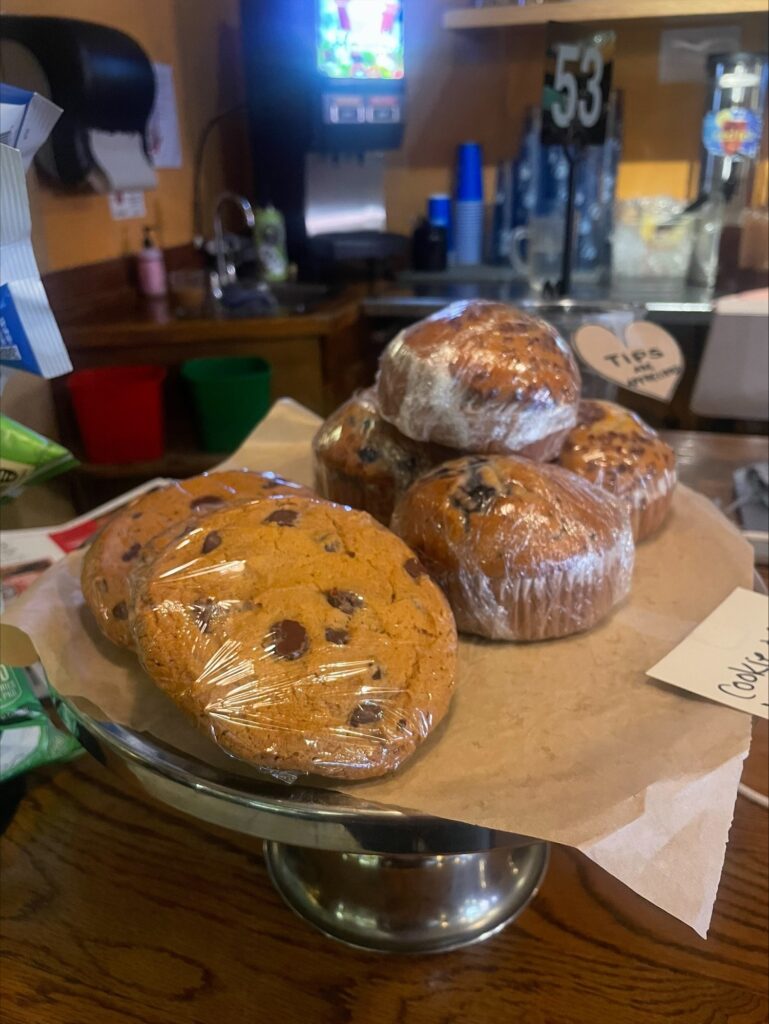 Bestslope Coffee
Bestslope Coffee is known for their in-house syrups and creative bakery. There is seating inside and many shaded areas around the shop to enjoy coffee from 7 a.m. to 4 p.m. everyday. Also in close proximity to Downtown Fruita, Bestslope offers unique coffee beans like the Burundi medium blend from the Yandaro region that has notes of cherry, pine and nectarine.
Cloud 9 is the prettiest drink on the menu according to the staff. Made with cold brew, vanilla anise syrup and a sweet cream cloud, the drink is fluffy and the perfect amount of sweet for a hot summer day. For non-coffee drinkers, there is a Blueberry Basil Sparkling Lemonade made with blueberry basil syrup, lemonade, and seltzer. Ice cream sandwiches are a popular menu item along with baked goods such as the Strawberry Spice Muffin and Snickerdoodle cookies.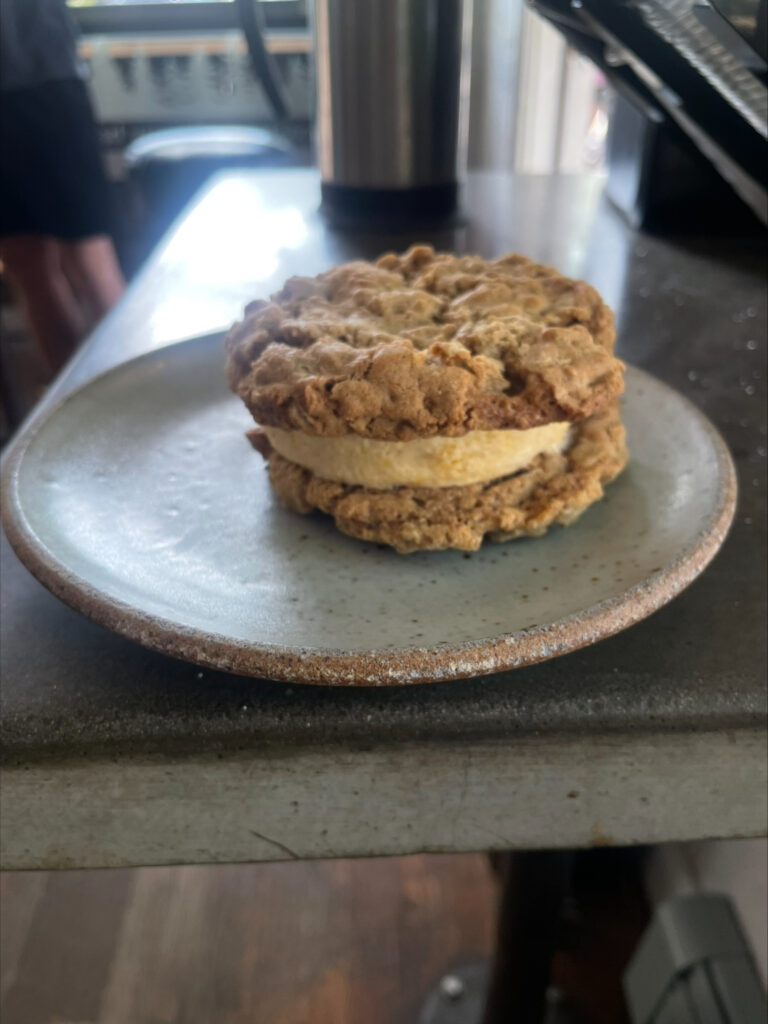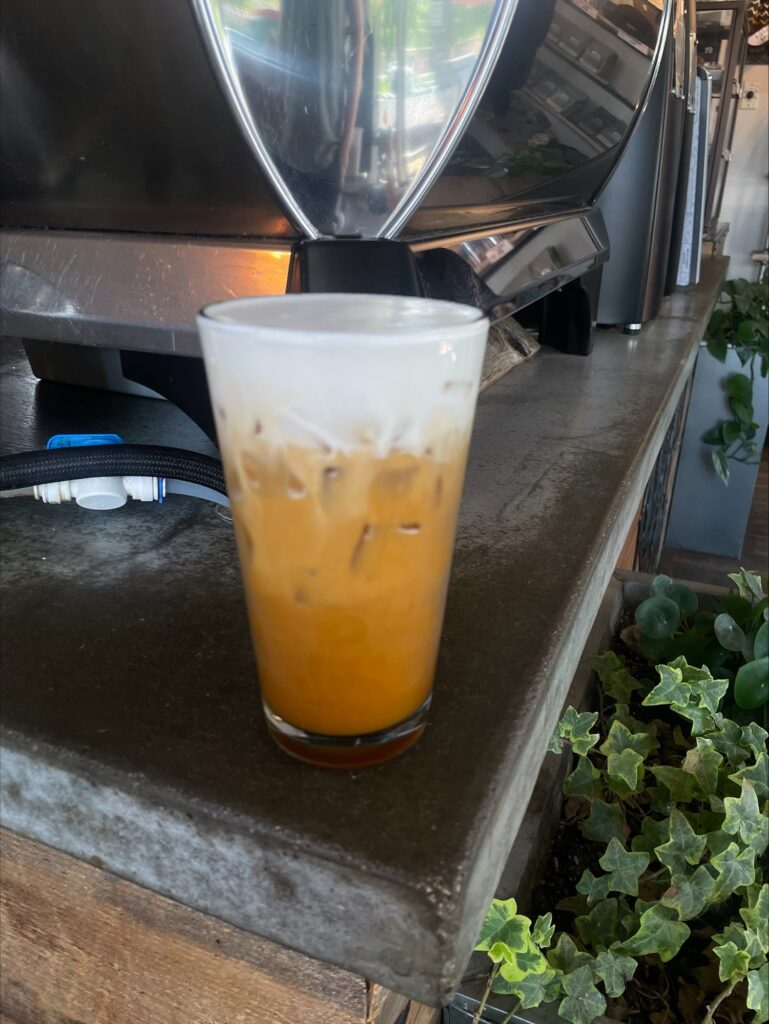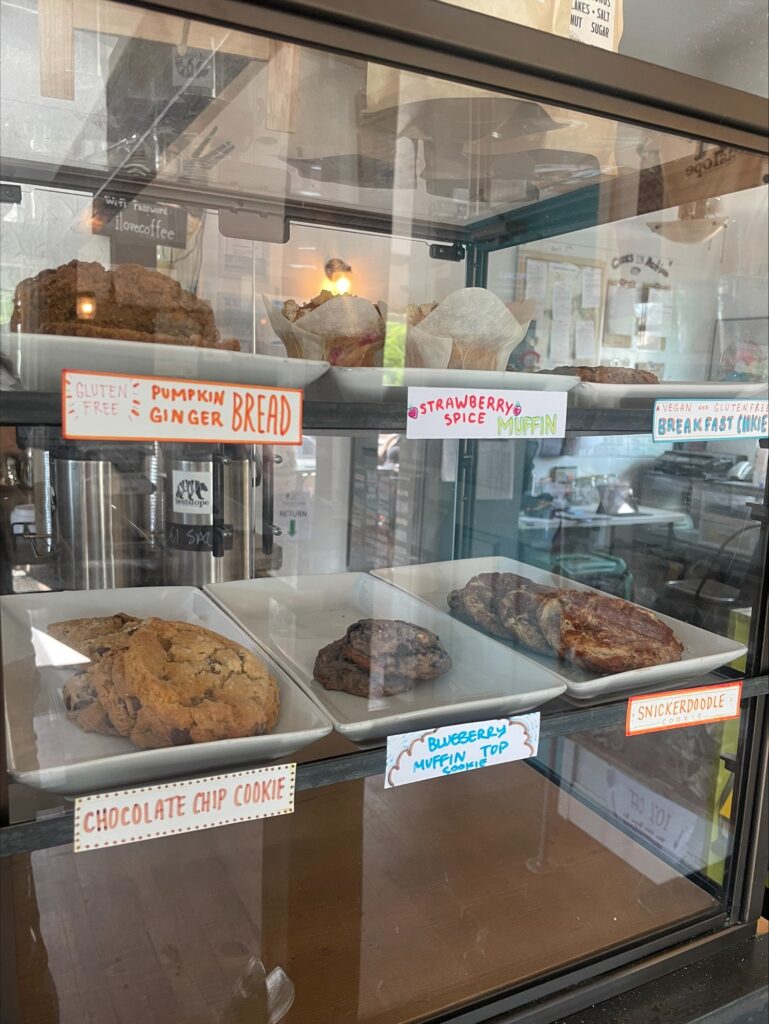 Aspen Street Coffee
Aspen Street Coffee is located in a unique historical building that used to be a bank. Customers can look at the intricate gold ceiling tiles while waiting for their orders. Aspen Street is open Monday-Saturday from 6:30 a.m. to 4 p.m. Located at 136 East Aspen Avenue, this store doubles as a coffee shop and bakery in the mornings and a wine bar with charcuterie boards in the afternoon. Customers can find a cool interior with even cooler drinks on a hot summer day.
Iced chai tea is a great way to start the morning, customers can choose between vanilla, spiced or chocolate for a sweet and almost savory drink. Frappes are another popular summer drink along with their cold brew and iced matcha tea. A perfect pairing with their cold drinks is homemade muffins, coffee cake or cake pops. Aspen Street also has a reputation for mouthwatering bagels and breakfast burritos.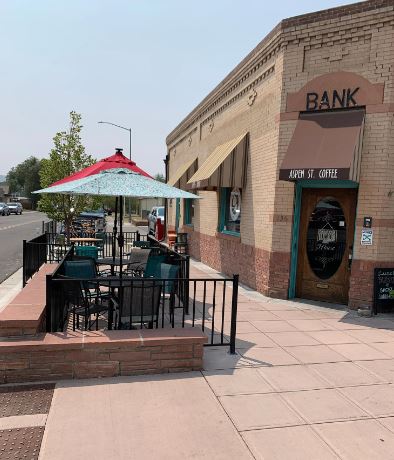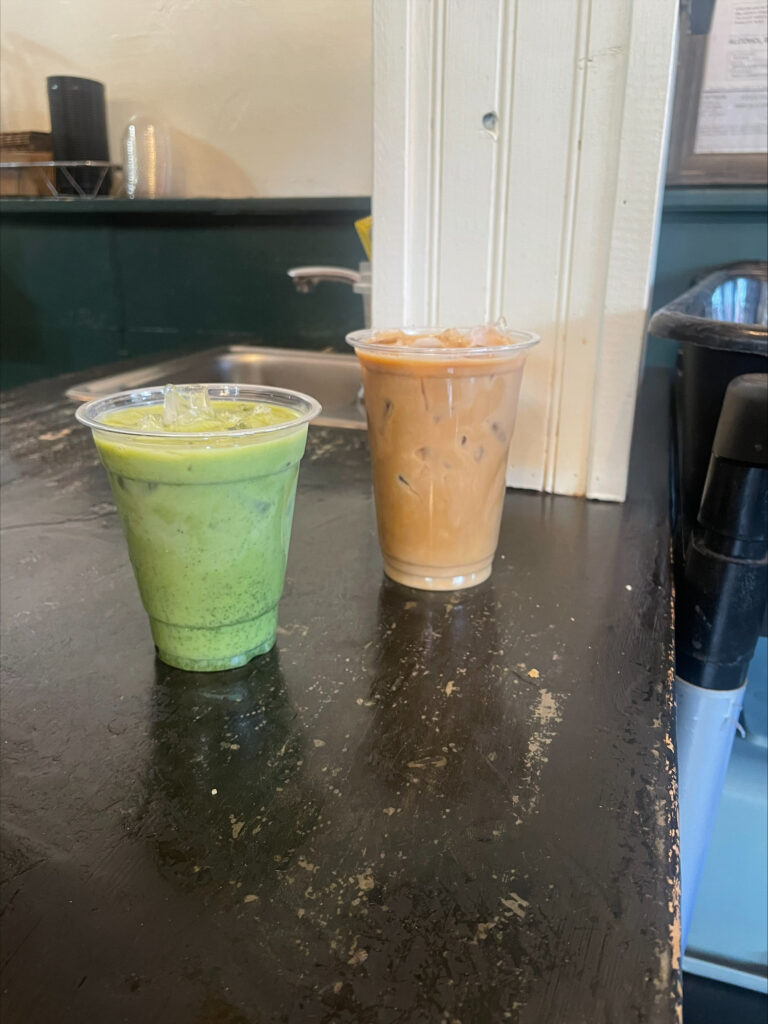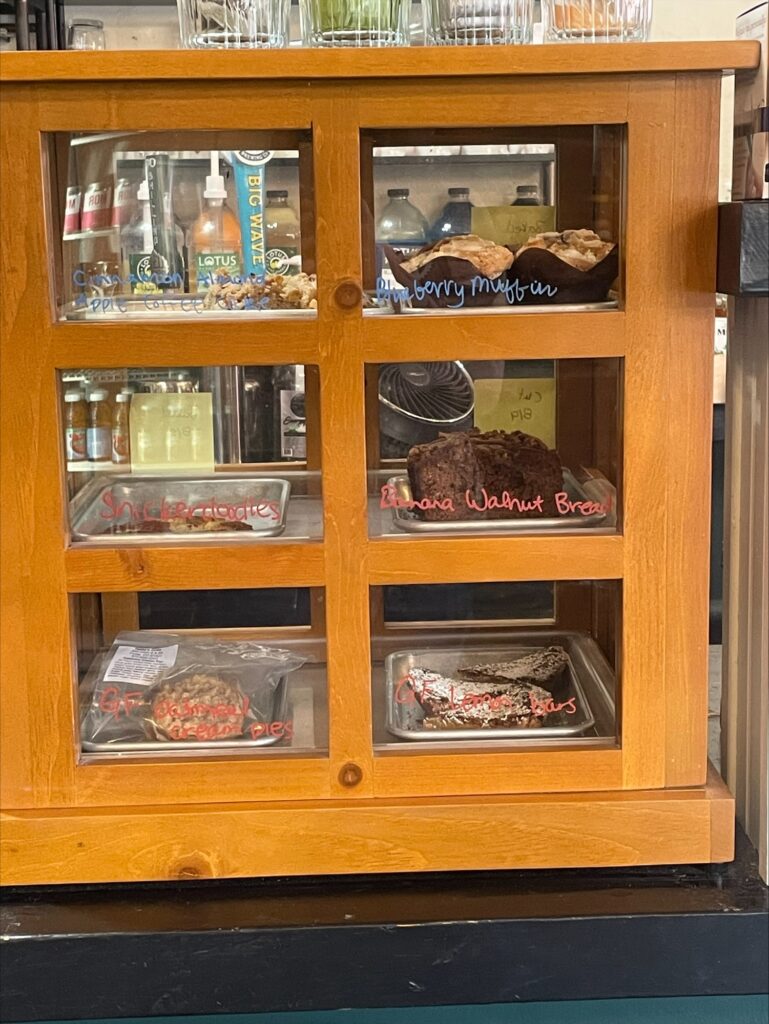 Wave
Wave is primarily a custom soda shop, but they are also known for their unique homemade chilled cookies that the owner came up with. Wave is on the way to Imondi Wake Zone and is the perfect place to stop for an afternoon treat. Open Monday-Saturday from 10 a.m. to 9 p.m., Wave has every flavor imaginable for customers to add to their sodas. There are even diet and sugar-free options.
Each month, there is a new featured flavor of cookie. August is a Palisade peach flavor with gorgeous pink frosting made to look like a rose. For the month of September, the feature will be snickerdoodle cookies. There are also cookies the shop always has in stock, such as a classic chocolate chip. There are endless drink options on the menu, the most popular is Wicked Grin, which is comprised of Dr. Pepper, raspberry and coconut cream. Customers also have the option to create their own flavors.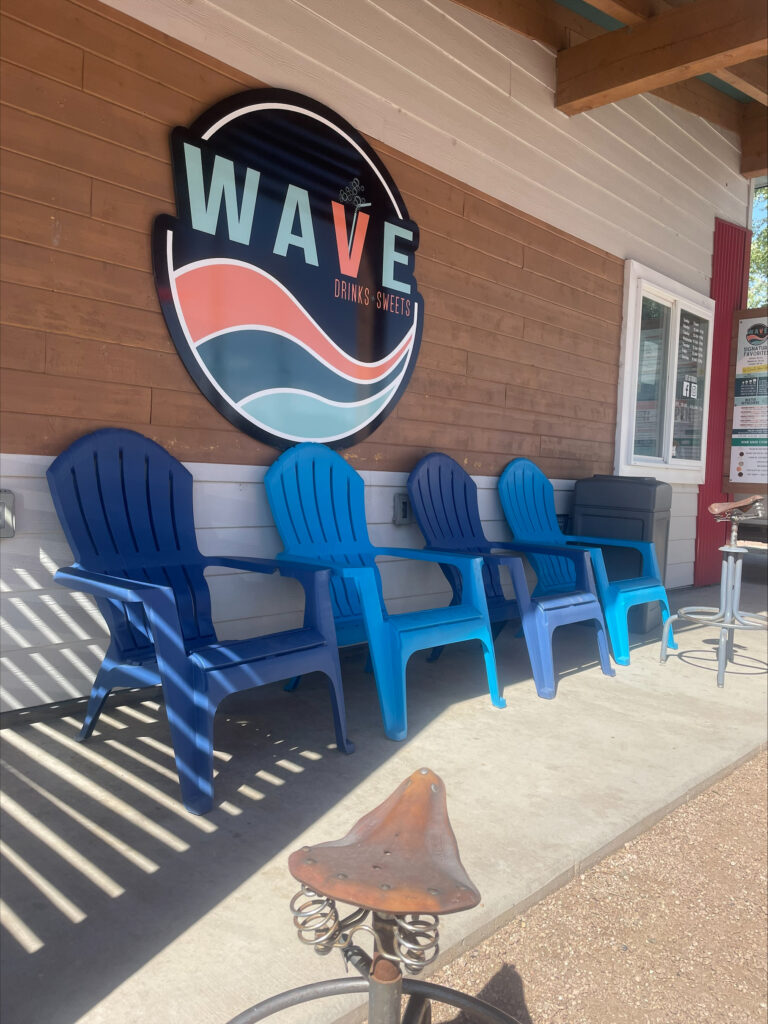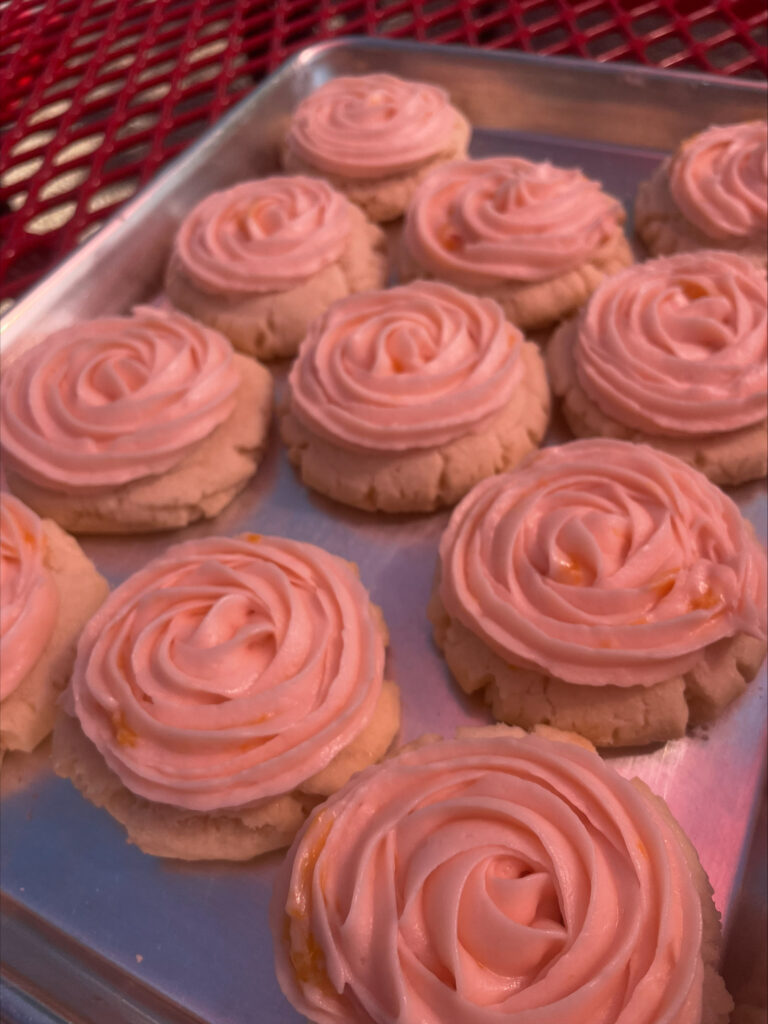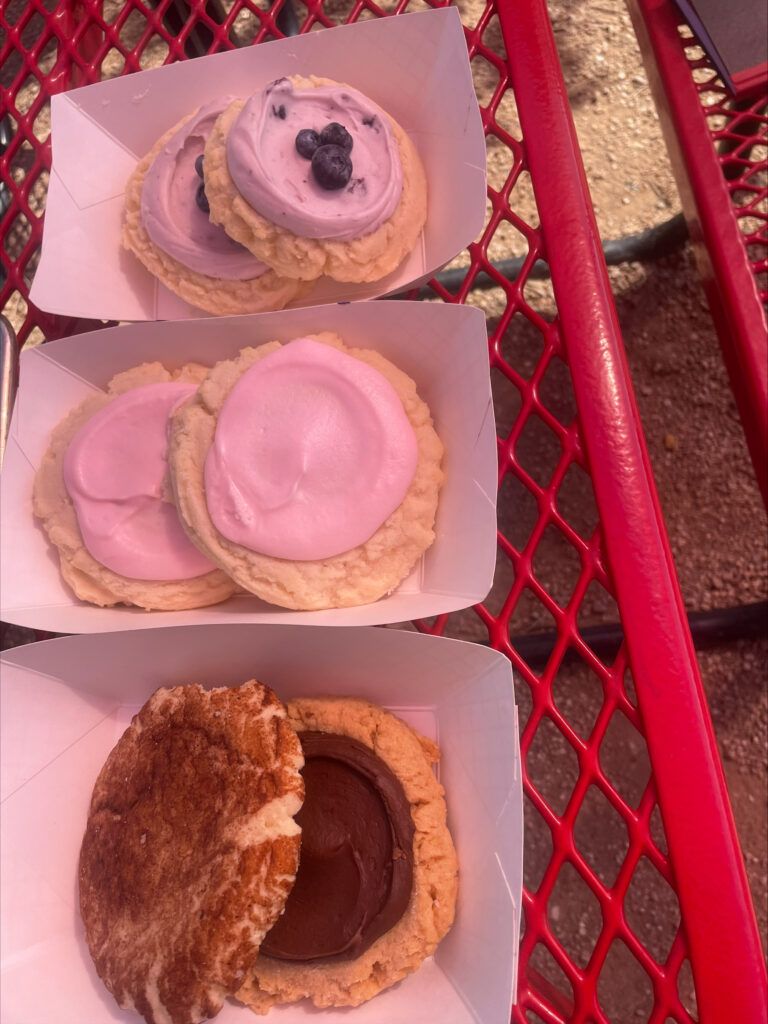 Munchie's
While Munchie's is known for their pizza and burgers, there is a wide variety of cold treats to enjoy with a meal or just as a snack at a reasonable price. Munchie's is located by multiple hotels and the Fruita Welcome Center, which makes it the perfect place to stop for those in the area. They are open from 10 a.m. to 9:30 p.m. Monday-Saturday.
A classic fudge or strawberry sundae topped with peanuts brings a nostalgic feel to the customers who eat it. A great summer flavor is peach, which can be made into an ice cream cone or a custom milkshake. Employees also highly recommend the malt, specifically the butterscotch one. Classic flavors like vanilla and chocolate also satisfy the need for a nice cool down. If you want to get fancy, there is a swirl option as well.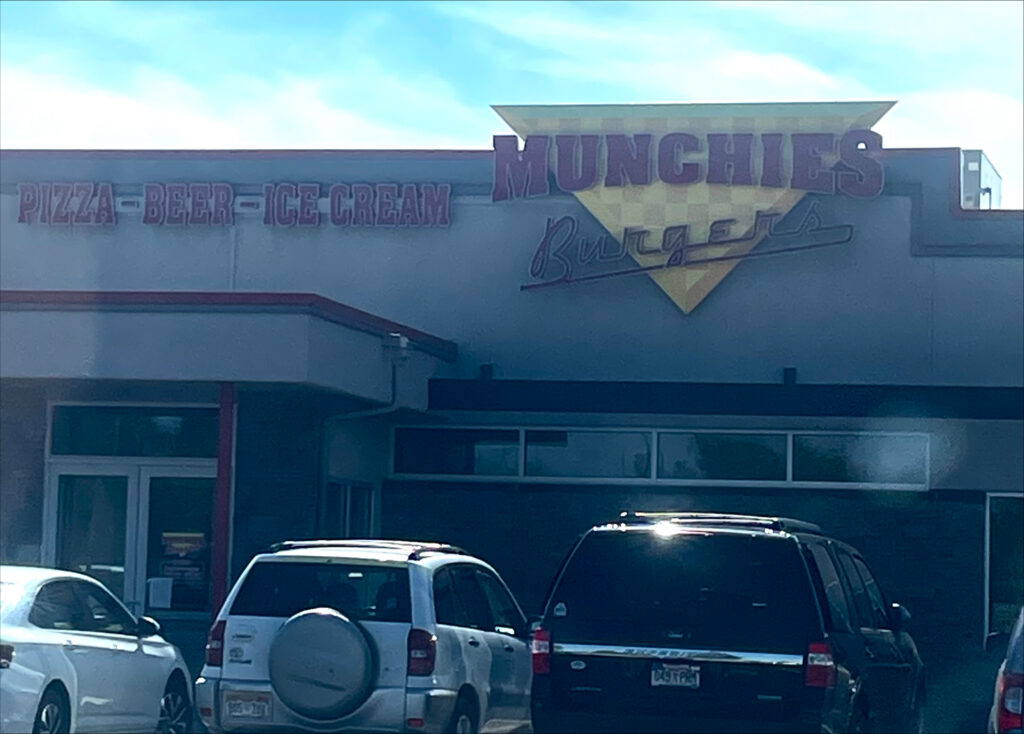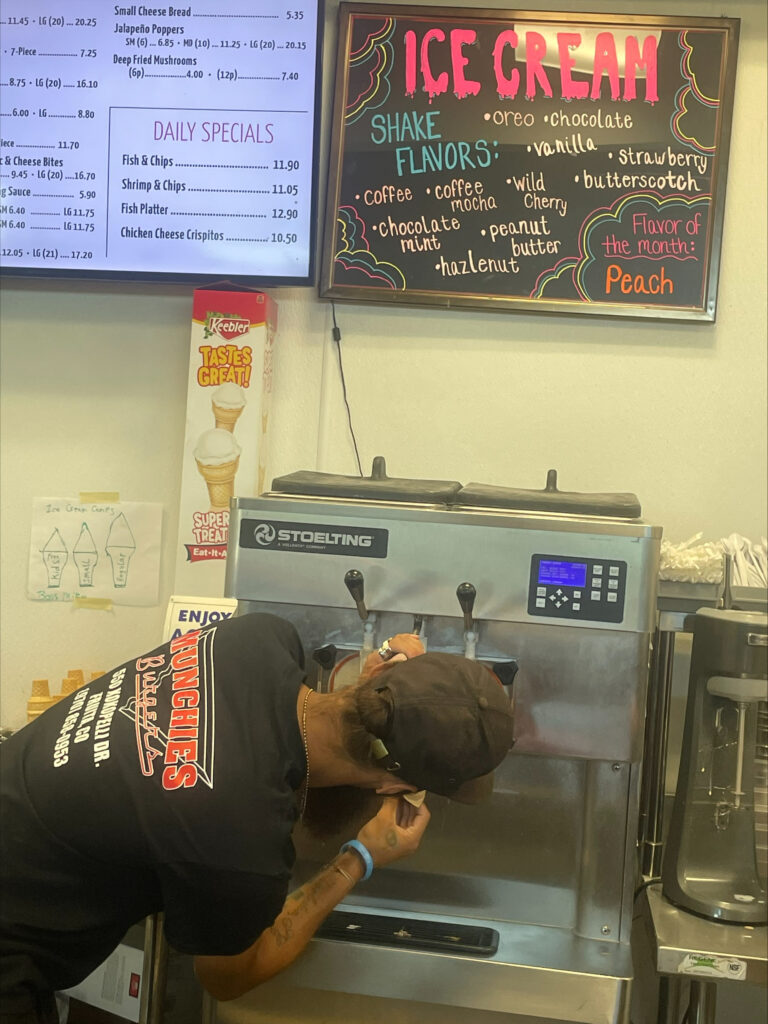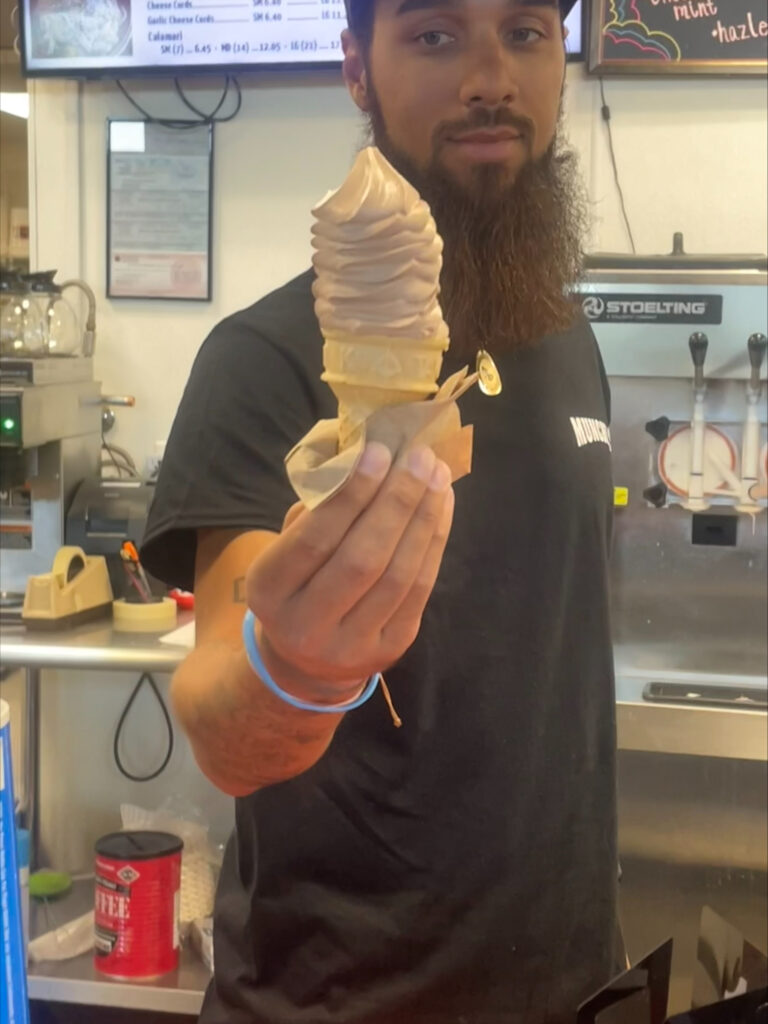 Sweet & Simple
Sweet & Simple is a local, family owned business that bakes all their own goods starting at dawn. In the heart of Downtown Fruita, this shop prides itself on its unique flavors and recipes that feed locals and visitors alike. Customers can find them open on Wednesday-Saturday from 11 a.m. to 6 p.m., but many cupcake flavors sell out earlier in the day.
The Tres Leches cupcake usually sells out first. This cupcake is soaked in sweet milk mixture to add depth of flavor and features Mexican caramel, homemade whipped cream, a sprinkle of cinnamon and fresh strawberries. The flavor was so popular that the shop decided to make a chocolate version to sell alongside the original. There are over 35 flavors of cupcakes, and summer is the prime time to get the Palisade peach flavors. For those who want a gluten free option, there is specialty rolled ice cream as well.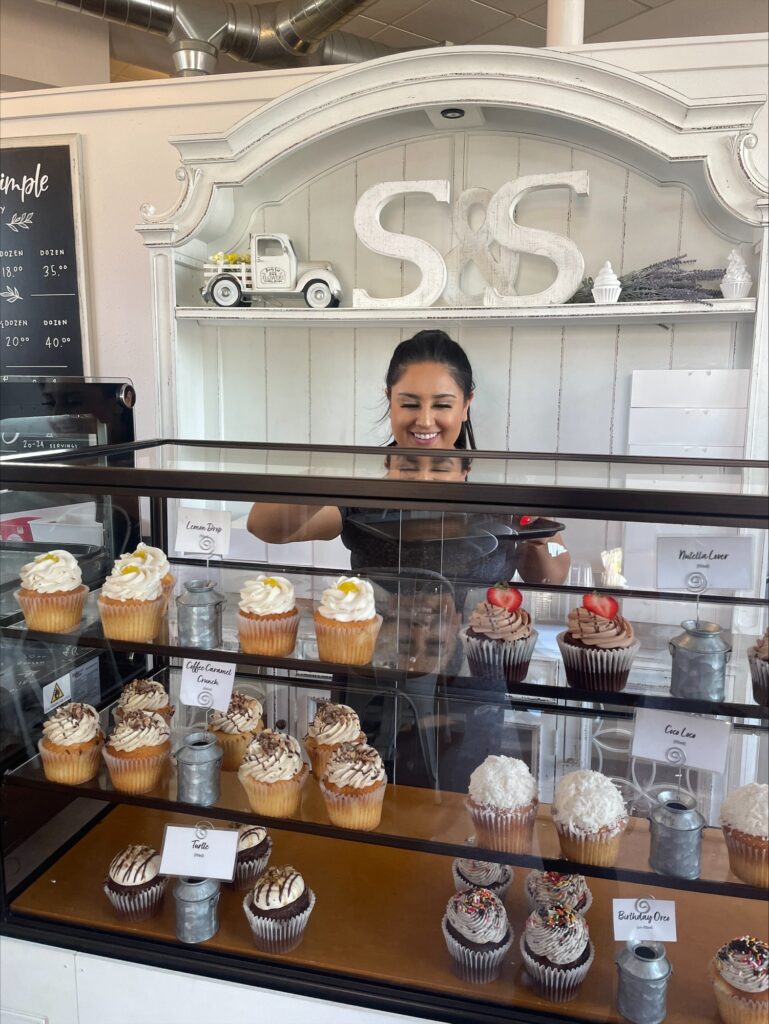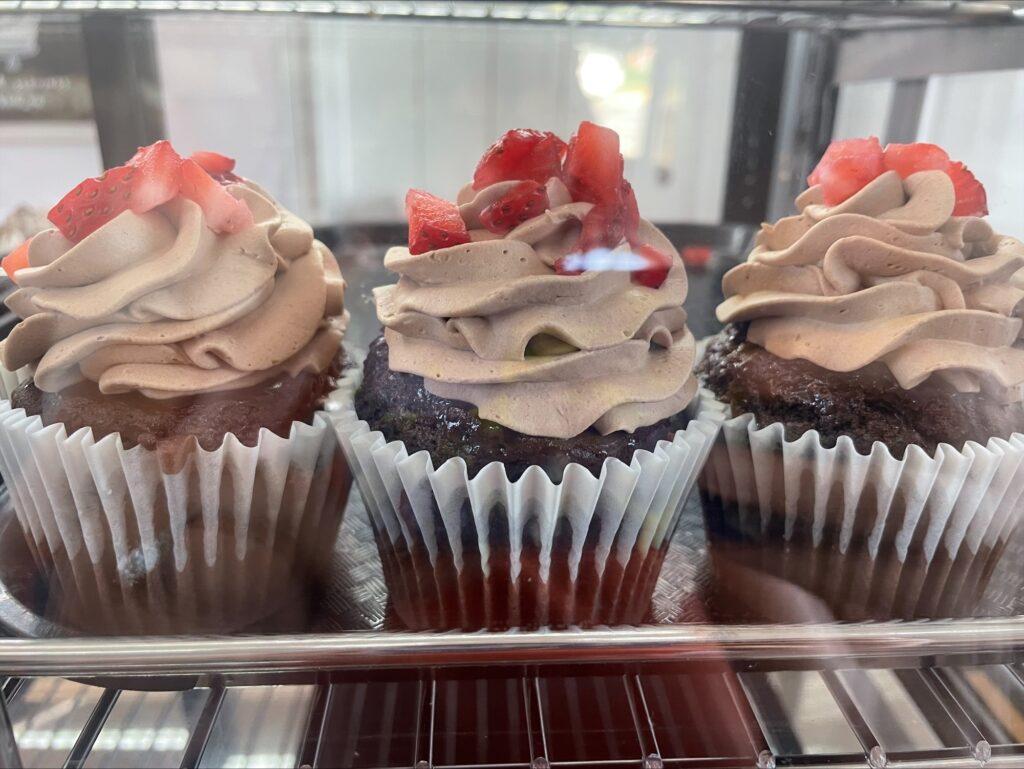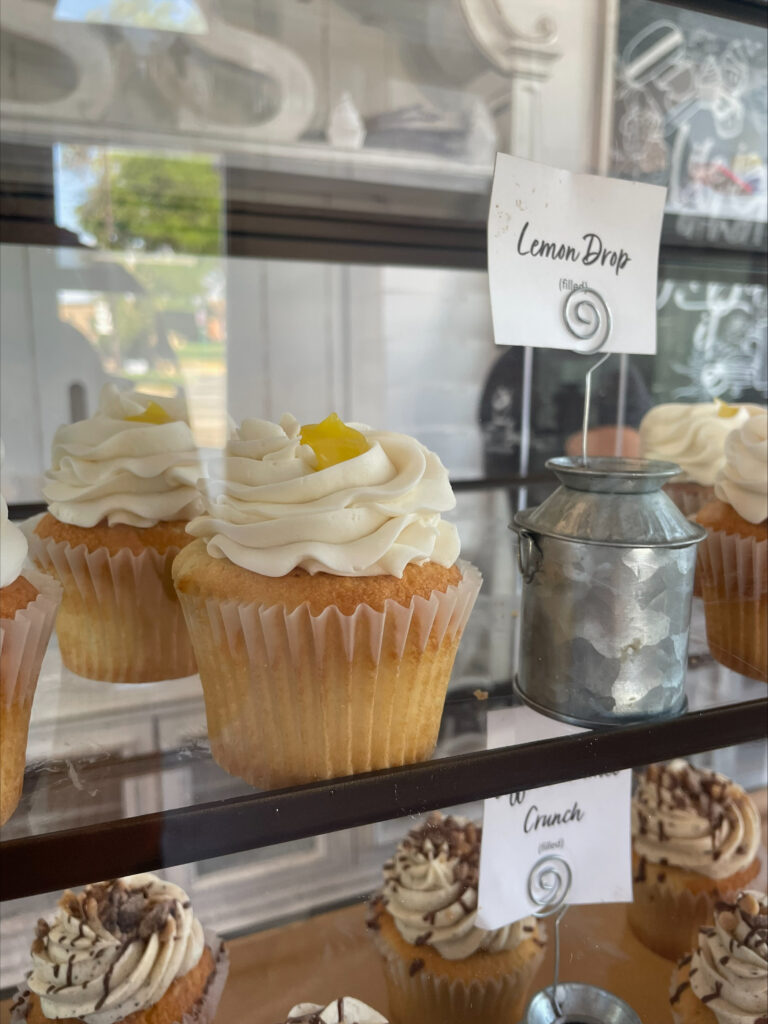 Hailie's Oven
Hailie's Oven is a gluten free bakery that offers an overwhelming amount of baked goods, it is almost impossible to choose just one. Palisade peaches are in season, so they are featured in breads, cupcakes, pies and cookies. They are located at 340 US-6 and are open from 7:30 a.m. to 4 p.m. Tuesday-Saturday. Hailie's Oven is the perfect place to go when one family member wants to avoid gluten and everyone else wants delicious baked goods. All of the treats are baked from scratch by the workers.
According to employees, items with peach sell out quickly during the summer months. When peaches are not available, the most popular items are scones of every flavor and the mouthwatering cinnamon rolls. Other sweets include breads, cupcakes, cookies, pies, cakes and brownies.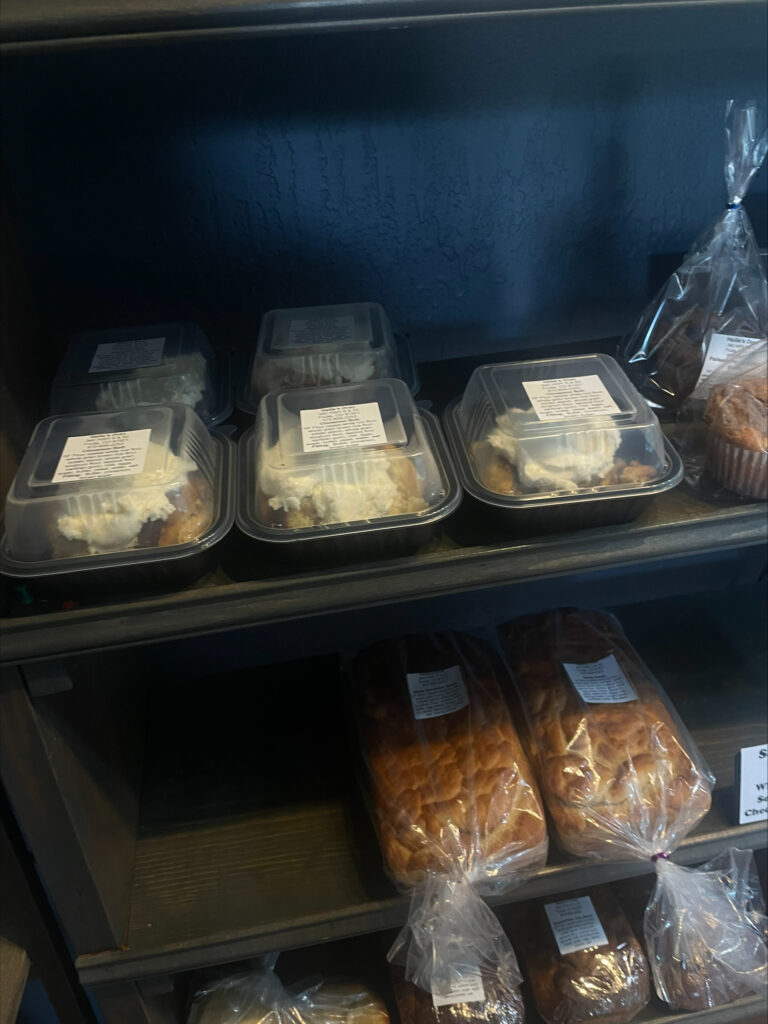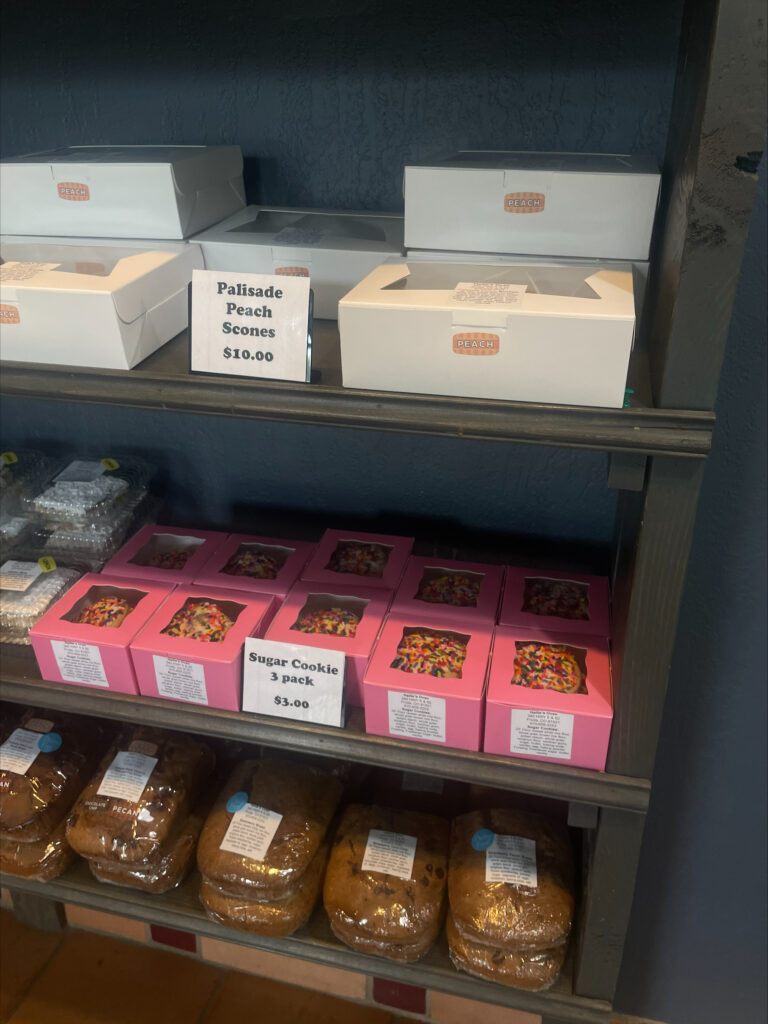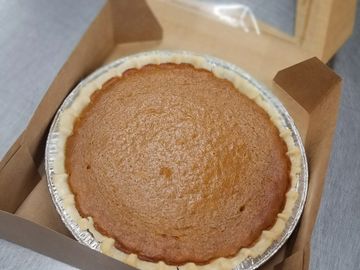 Skip's Farm to Market
Skip's Farm to Market offers a wide variety of unique sweets, all of which are made with natural ingredients. Skip's has many local brands and their goal is to provide Fruita with produce and other goods that come from the Grand Valley and other locations in Colorado. You can stop in while taking a walk Downtown and stock up on ingredients and snacks on Monday-Saturday from 10 a.m. to 6 p.m.
Honey is one of the best summer snacks, and Skip's carries local jars from Honey Bear, located in Loma, Colorado. For a smaller treat, there are Honey Stix at the front of the store with flavors ranging from cinnamon to classic. Chocolate lovers can find a few unique brands as well, such as Little Secrets chocolate bars. Home baked goods include Pan Au Chocolate, muffins and cookies like the Chocolate Cranberry Walnut cookie. Palisade peaches are a big hit at Skip's, their juicy sweetness is essential during summer.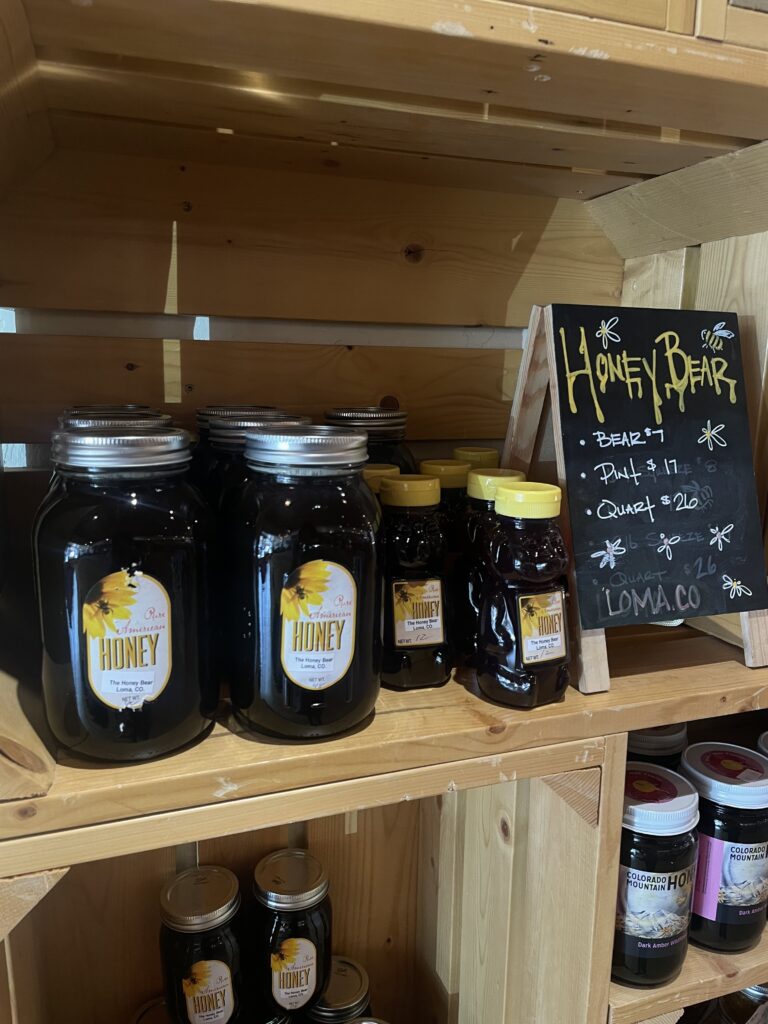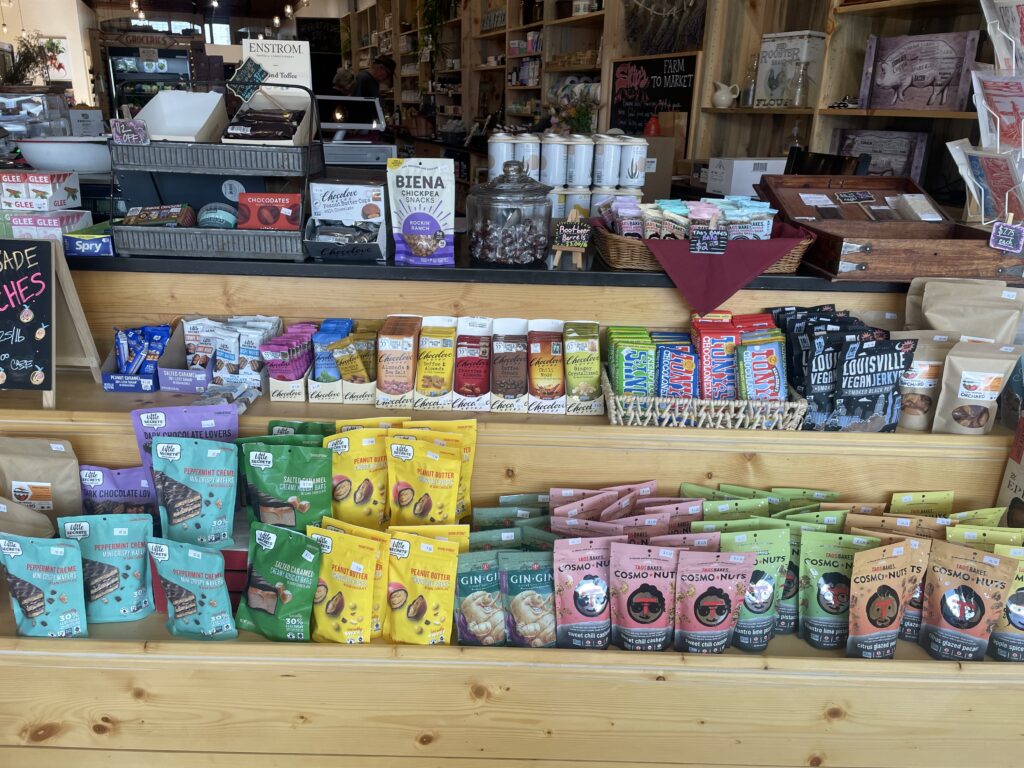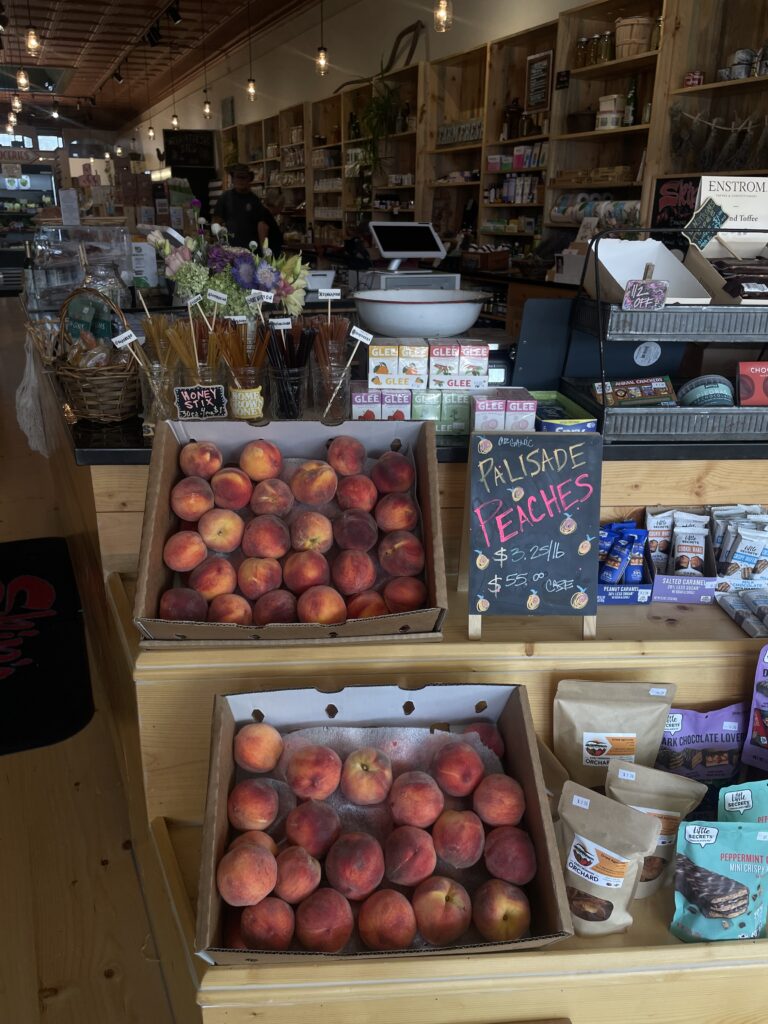 Mike's Famous Chicken
Mike's Famous Chicken a family owned restaurant that is a staple in Fruita. Chicken is the main selling point of Mike's, but their ice cream is a local favorite as well. The store is in close proximity to the Fruita Civic Center, where many community events are held. Customers can enjoy their food on Thursday-Monday from 11:30 a.m. to 7 p.m.
They offer 16 ice cream flavors at all times and rotate the flavors based on what is in stock, which means there are always new options. Popular flavors include mint chocolate chip, espresso chocolate and party animal, a cotton candy flavor. The shop also always offers root beer floats, and milkshakes when business is slow. There are always new things to try and because some items like their cobblers and ice cream sandwiches made with a salted caramel cookie, vanilla ice cream and sprinkles are only offered occasionally, they become hot commodities. To check what Mike's has in stock, customers can always call ahead at (970) 639-2015.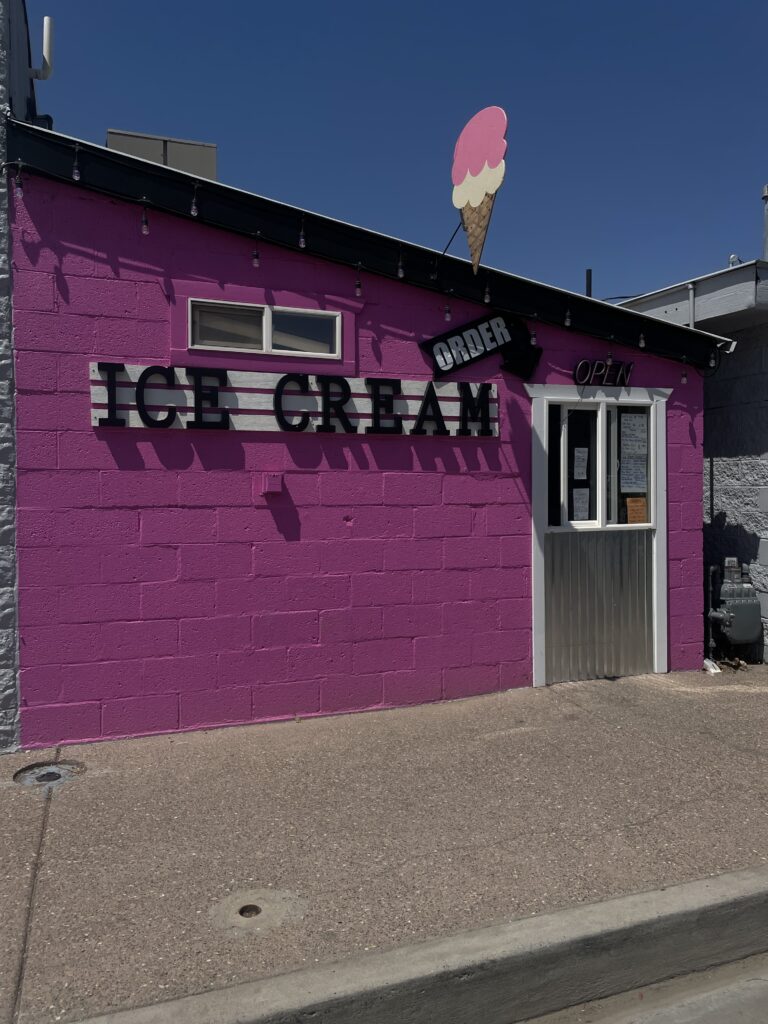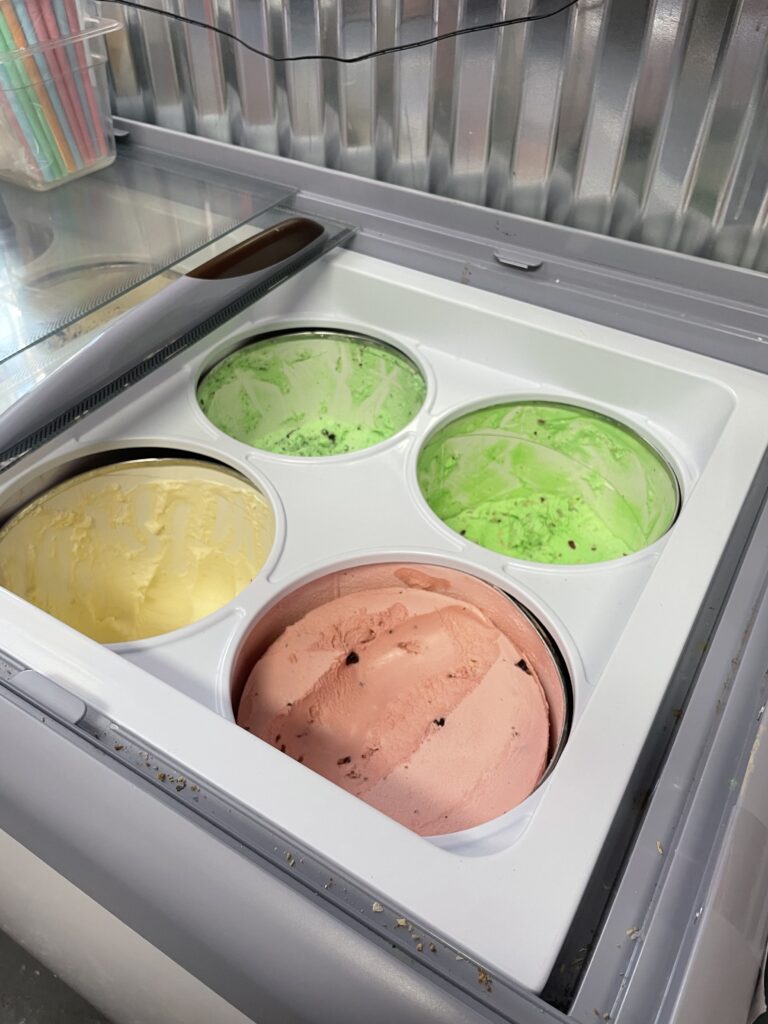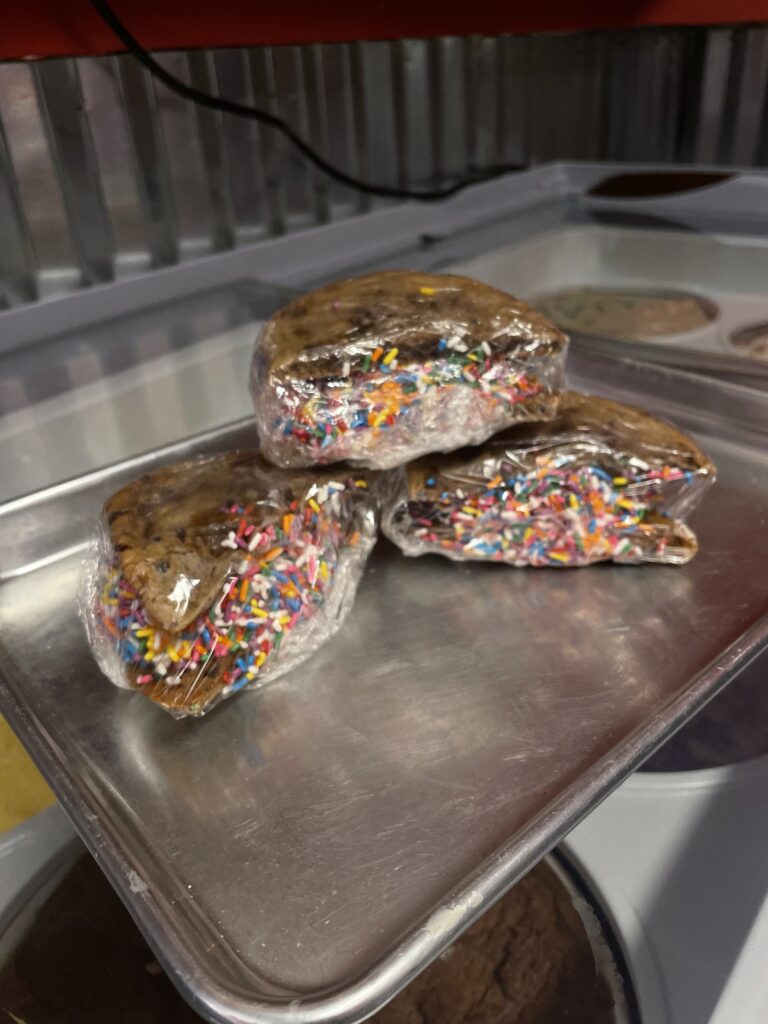 Fruita Sno Shack
Fruita Sno Shack is one of the best places to cool off in the summer. Their shaved ice is available in many different flavors such as tiger's blood, blue raspberry, piña colada and grape. The Sno Shack is only open during the summer, usually from late May to early August. You can find them by Circle Park on the corner.