Calling all mountain residents…. Flee the mud and bounce to Fruita and Palisade, where spring is on!
Here's a preview of a fun-filled, April day.
Breakfast
Camilla's Kaffe in Fruita.
Morning Ride
Roll out to Fruita's 18 Road for a feast of flowy and fun trails. It's hard to choose favorites out there, but we can pretty much guarantee that PBR will put a smile on your face and you'll feel like a hero rolling up and down Joe's Ridge.
Lunch
Grab a bite (and beer) at Copper Club Brewing Company – their resident food-truck specializes in hot sandwiches with locally sourced ingredients.
Afternoon
Make it a two-sport day and venture over to Colorado National Monument for a hike or trail run. Devils Kitchen Trailhead, is a good launching point offering a variety of trail options. Seek out phenomenal views, unique geology, and fun rock scrambling on the Devils Kitchen trail (1.5 mile round trip). Or climb 1.75 miles (one way) up the Serpent Trail, a historic trail (and the original park road) with 16 switchbacks winding through sandstone walls. Another option is to venture to the waterfalls in No Thoroughfare Canyon (it's about 1.8 miles to the first waterfall and 2.8 to the second waterfall).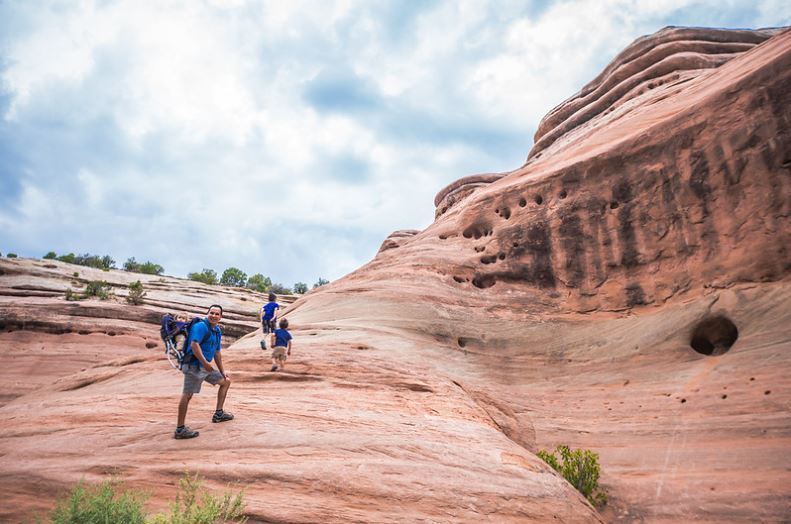 Aprés
Finish the day off in Palisade and visit Talbott's Farmers Market and Taproom for aprés. The Talbott Family has been growing fruit and making apple juice and ciders for 100 years and now the grandkid generation is brewing hard cider.
Dinner
Tacos @ Palisade's taqueria, Fidel's Cocina.
Given all the trail systems in the Fruita and Palisade area, you can keep this routine going for days with additional visits to the Kokopelli, Rabbit Valley, and Palisade Rim trails followed by vineyard and cidery stops and foodie delights in Palisade.
Event Pairings
Consider pairing your April bounce to Fruita and Palisade with these events: Palisade International Honey Bee Festival (April 15), Desert Rats Races (April 14-16), or Barrel Into Spring (April 22-23).
Lodging
Whether you're looking for desert camping, RV campground, AirB-n-Bs or a hotel pillow, the towns of Fruita and Palisade have you covered. For lodging options, reference these websites: https://visitpalisade.com/lodging/ and https://www.gofruita.com/lodging.