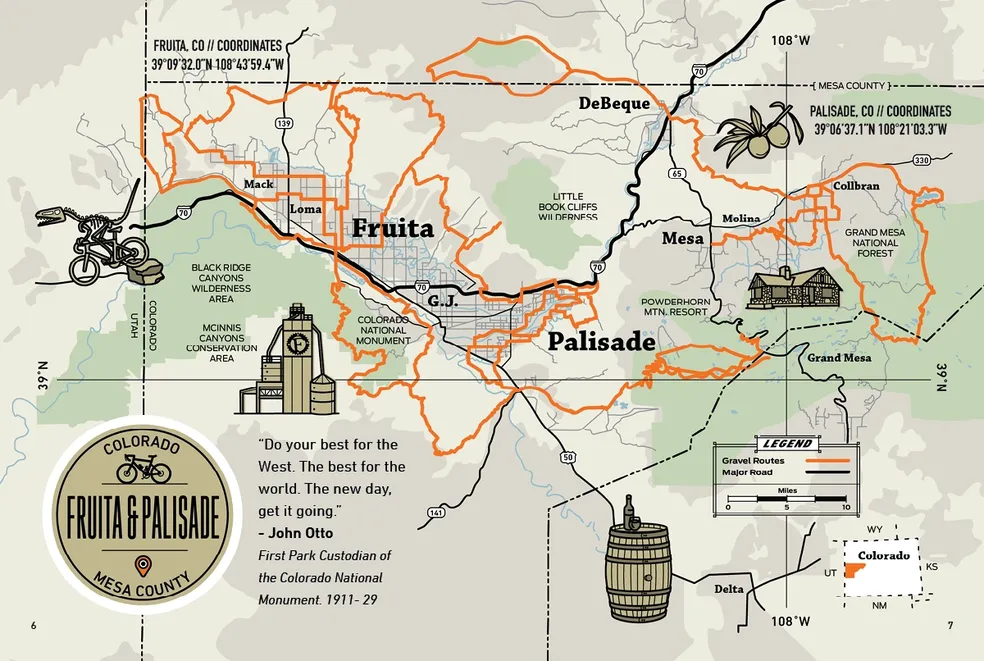 Travel Fruita, CO and Palisade, CO on a gravel bike with routes showcasing the land, art, and stories of the Western Slope. Although Fruita is known as a mountain biking destination, the area is surrounded by routes ideal for cycling. Gravel roads connect the Grand Valley's most unique features.
With over 1,000,000+ acres of public land, there are endless opportunities for adventure. See the more unknown areas of Colorado's Western Slope on a gravel bike. Not only can you see unique parts of Fruita and Palisade on a gravel bike, but you can also experience the rich culture and history of the area at the same time!
Fruita and Palisade are excited to partner to bring the Fruita + Palisade Gravel Adventure Guide! This guide includes information on Mesa County, 11 unique gravel routes, spotlights local businesses, historic information, and more! In the guide, users can scan the QR code to access an online map that provides step-by-step instructions on each route.
Stop by a local bike shop to pick up your free copy. Learn more about the guide at the Gravel Adventure Guide website.
Check out this teaser video where you can hear from Ben Burgundy!